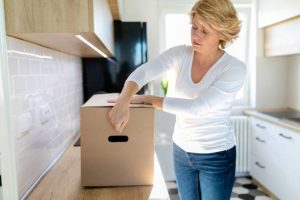 Moving can be a stressful time, but with some preparation and packing tips, your move can go a lot smoother. At some point everybody moves to a new home so it's best to follow these proven moving and packing tips. Using a moving checklist is sure to help before, during and after your move. It's recommended that you begin with decluttering and getting rid of items that are unused or not necessary. The next step is to make a moving folder with all the information you'll need. Then try to pack weeks or months in advance of your moving date, book the mover as early as possible, schedule your utilities for your new home, and last but not least, it's a good idea to keep essential items with you like medications.
Packing Tips for Moving
Packing is an important part of moving your belongings to their new location without any mishaps. Firstly, stock up on moving supplies such as boxes, tape and wrapping material. Some people may have concerns for specific items like a family heirloom, but generally the following tips will make your move easier:
Use the right size boxes. Pack heavier items in smaller boxes and lighter items, for example linens, in bigger boxes.

Put heavier things on the bottoms of the box and lighter items on top.

Fill in any empty spaces in a box with towels or paper. Movers don't like boxes that are loosely packed.

Keep room items in the same boxes. Mixing items from different rooms will make unpacking more difficult.

Label each box with its contents and the room it's supposed to go to.

Tape the boxes at the top and bottom seams as well as around them.

 Kitchen items need special care. China, plates and glassware are best  wrapped individually with wrapping paper and wrapped again in a bundle of five to six items together. Pack dishes on their sides, not flat. Paper can be used as a divider between cups and bowls when bundling three or four. Use cardboard dividers for glasses and wrap them in layers of paper for further protection. Place everything within dish barrel boxes.

Clothes can be packed several ways. They can be folded in boxes or suitcases or even left in the dresser. Hanging clothes can be packed in a specially made wardrobe box. Shoes should be wrapped individually. Jewelry can be strung through straws or cardboard toilet paper rolls.

Your television should be wrapped like any other piece of furniture, but it's best to wrap a plasma TV in a crate and not laid flat.
Packing Supplies
There are a variety of packing materials to use on your move. Bubble wrap is best to use on more delicate items such as glass, ceramic or porcelain. Packing peanuts are a bit messy, but very helpful for filling in any gaps in the boxes. Peanuts also absorb humidity which is good when moving your electronics. Packing paper is the best choice, even more so than bubble wrap because its form fits an item and can be layered.
Ready to Move?
Once you have started to pack, and have a moving date, you should call a reliable mover. Big John's Moving has been in business for decades and committed to their customers. They can move you quickly, easily and will move your belongings to your new home safely – stress free!